FBGP's FXFL Coverage: Brooklyn Bolts Open 2015 Practice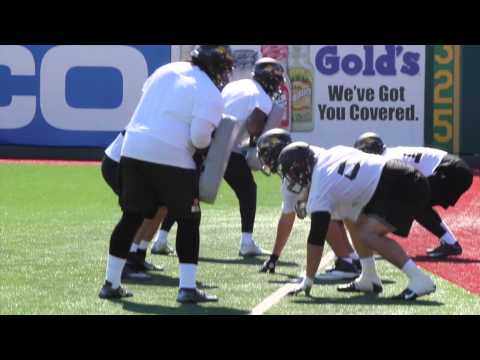 Football Gameplan's 2014 FXFL Post Season Awards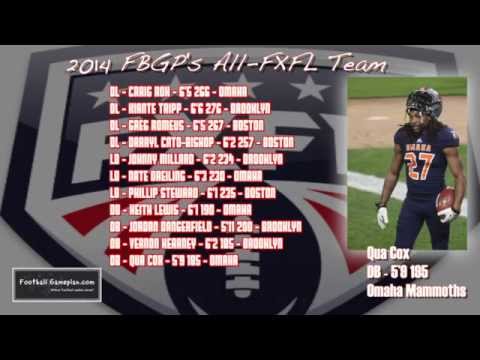 Hunt's Scouting Notes: Boston Brawlers vs

Brooklyn Bolts (10-31-14)
Boston Brawlers Prospect Notes
FB – J.C. Copeland – 5'11 265 (LSU/Cowboys)
This was my first look at Copeland in the FXFL, I liked him coming out of college.  Physically, you can see he carries his weight well. He's not a 'sloppy' fullback. Copeland is a powerful blocker that can clear out room in the running game. Your classic fullback type.  However, you don't see him much as a blocker in pass pro because he is good asset to have in the passing game.  He can catch the ball very well away from his body and is a natural hands catcher.  Where you can see the need for improvement is in his run blocking.  I don't like the ducking of the head in certain situations; that'll cause him to lose leverage and lose the defender.  As a runner, I could honestly see him as a situational one-back in short yardage and goal line.  I think his running skills as a ball carrier are undervalued.
C – Matt Armstrong – 6'2 305 (Grand Valley St./Saints)
Big fan of the movement skills of Armstrong. The Brawlers put him on the move a lot, which speaks volumes to the level of athleticism he has as a Center.  He's able to anchor and drive once engaged with the defender and can climb to the 2nd level with ease.  His hands can get outside at times which in certain situations causes him to get turned and knocked off balance.  I like his P.O.A. strength and I think he could be a solid G prospect if he wanted to.
RB – Martin Hypollite – 6'0 217 (UConn)
Hypollite ran exceptionally well vs Brooklyn.  I was impressed with how light on his feet he was for a bigger back.  Hypollite routinely made the 1st guy miss and was able to slip tackles upon contact.  Running with good balance and vision, I saw him get better as the game went on.  Considering that he had a bad injury back in 2013, you can tell he's starting to get his 'running legs' back under him now.
Brooklyn Bolts Prospect Notes
C – Mike Golic – 6'4 300 (Notre Dame, Steelers)
Mike Golic, in my opinion, had the best night of any player on the field. From a physical and technical standpoint, I didn't see any missteps. I'd be interested to see how he graded out in the position meeting this week because he was excellent.  Golic in pass protection 'played the piano' very well. His hands were inside and active. Constantly stonewalling Boston's Johnnie Farms and John Drew.  Didn't allow a pressure in that capacity.  In the running game, he was able to 'lock and drive' effectively.  Overall, this is the best I've seen from an OL in the FXFL this year and it'll be a shock if he doesn't get another opportunity at the next level. Not exaggerating, Golic played one hellava game.
CB – Kevin Fogg – 5'10 185 (Liberty/Dolphins)
Fogg was one part of an excellent duo at Liberty (teammate Walt Aikens, Dolphins).  Fogg played mainly on the boundary side and you instantly see how physical of a player he is versus the run.  I like that he's an active participant in that capacity. He's a very good open-field tackler and doesn't miss many opportunities to impose his will vs the WR once he makes the catch.  Coverage wise, he's move of a zone corner than man. I think he excels more as a read-and-react guy as opposed to a turn-and-run player.  Fogg impressed on Friday night. He's also a member of both special teams coverage units (kickoff and punt coverage).
CB – Tevrin Brandon – 5'10 180 (Monmouth, Chiefs)
On the opposite side was Tevrin Brandon. He's more of the technically sound player at the cornerback position.  Very smooth in-and-out of his backpedal. He's a guy that you can tell trusts his speed and quickness as he's able to wait to the last possible moment to bail out of his backpedal to make a play on the ball.  Brandon also takes very good angles to the ball carrier.  I think he can excel in the slot as well as on the outside.  I would like to see him get a little bit stronger vs the run.  He has to be able to set the edge a lot better vs the outside run.
QB – Kolton Browning – 6'1 219 (ULM, Cowboys/Blue Bombers)
Browning showed good arm strength on Friday vs Boston.  That was a major question that a lot had about his game coming out of UL-Monroe.  Browning's timing in the passing game was impressive. The ball came out as he hit the top of his drop for the most part.  That tells you that he 1. Processed the information quickly both pre and post snap and 2. Decisive in where he wanted to go with the ball.  Ball placement was a little bit off vs Boston and it was a result of him spot throwing at times.  Throwing on the move was another good trait that I saw Friday night from Browning. He's a mobile guy and being able to throw accurately on the move only makes you more valuable to an offense.
Guys that Surprised with Standout Perf0rmances
Boston Brawlers – DL – Darryl Cato-Bishop – 6'2 257 (NC State, Jets/LA Kiss)
Playing the 3-4 Defense, I came away highly impressed with Cato-Bishop's play as the 5T.  Just judging by his size, you'd think he'd struggle as a 5T, but that was furthest from the case.  Very good P.O.A. strength to maintain the LOS.  But you can see with his quickness, hand fighting and showcasing pass rushing ability, he gives you a lot of flexibility in that role.  When they tried him out as a 7T, he didn't have nearly as much success as he did inside.  You can also go out on a limb and say that he can have success as an ILB in a 3-4 as well because of how well he moves in space.  Intriguing prospect with a variety of skills.
Brooklyn Bolts – DE – Kris Redding – 6'4 275 (Wake Forest, Lions)
Redding was a pass rushing nuisance this Friday vs Boston.  Playing multiple roles up front, he was constantly in the backfield getting 2 sacks.  He can play on either side of the OT and can play inside in a 'speed package' as a 3T.  Push-Pull-Rip, Punch-Slap-Rip, Swat & Swim…all of which were utilized to perfection by Redding. Good game overall.
__________________________
Hunt's Scouting Notes: Omaha Mammoths vs Brooklyn Bolts (10-24-14)
Omaha Mammoths Prospect Notes
QB – Jordan Jefferson – 6'4 225 (LSU, AFL – Pittsburgh Power)
Jefferson threw the ball very well vs Brooklyn. What was impressive about his game is that he's showing very good pocket presence; knowing when to step up, when to slide left/right and when to take off. He threw well on the move and his arm strength is evident. The one good trait he had coming out of LSU was that he was fearless vs the blitz and willing to stand in the face of pressure to deliver a strike.  He's a pocket QB that has athleticism and not the other way around. And from where he was coming out of LSU, I'd say his accuracy is much better overall.  I do believe he's been the most polished QB in the FXFL so far. Very impressed with his game.
QB – Brock Jensen – 6'3 225 (NDSU, Dolphins)
Jensen is another QB, similar to Jefferson that has showed very good skills this year in the FXFL.  What he brings to the table is that he's more of a 'willing' runner that'll get to his 2nd read before taking off. His running ability can be an asset in a Zone Read offense.  Jensen shows a very live arm. He's very accurate on the intermediate and deep passes. The one thing he'll have to develop is touch; knowing when/where to take steam off the ball because that also tends to effect his placement on the shorter routes.
TE – Ernst Brun – 6'3 251 (Iowa St.)
Brun is a solidly built TE but, in my opinion, is your ideal H-Back. He's very good executing reach and seal blocks and shows a good understanding of the underneath passing game.  He's not explosive, but does have the ability to get open down the seam.  Brun can catch the ball well enough to be factored into a team's passing game and I would ideally see him in a situation on a team that utilizes multiple TE sets like the Saints, Rams, Patriots & 49ers.
CB – Qua Cox – 5'10 185 – (Jackson St., Colts)
There's a lot to like about Cox's game.  He's a press guy that can turn and run well with receivers.  Smooth in his backpedal with fluid hips, Cox is able to mirror and redirect receivers (with or without jamming) and get in good position to make a play on the ball.  Verses the running game, he's an active participant and doesn't shy away from contact. The added bonus was that he also returned kickoffs for the Mammoths, which is definitely something that the NFL/CFL would want to see.
CB – Keith Lewis – 6'1 190 (VU-Lynchburg, Bucs)
Lewis is another corner that shows good all-around game.  He shows good pattern recognition and is able to play with control.  You won't see him lose because of overaggressiveness. At 6'1 190, Lewis plays just as big as his size would indicate; showing the ability to jam, wall-off, and run with his back to WRs very well.  He can excel in off-man or strictly zone because if his instincts and first step quickness.  Surprised that both he and Cox aren't on NFL rosters right now.
LB – Nate Dreiling – 6'3 230 (Pitt State, Packers)
Dreiling was all over the field for the Mammoths. Going back to compare my notes on his game coming out of Pitt State, they mirror what you saw vs Brooklyn: great acceleration to the ball carrier, the ability to stack and shed, good awareness in the passing game.  What was impressive in this game was how 'fast' he played. There wasn't any wasted movements and Dreiling was decisive in everything he did. An overall good outing for the former Gorilla.
DL – Craig Roh – 6'3 255 (Michigan, Panthers)
Roh was another disruptive force for the Mammoths. His ability to get off the ball and get off blocks was very impressive.  Roh chased runs down from the backside, didn't allow himself to get reached in the running game and also did a fine job of applying pressure on the QB.  Winning with quickness was the name of the game vs the Bolts for Roh.
Brooklyn Bolts Prospect Notes
CB – Vernon Kearney – 6'2 185 (Lane College, Chiefs)
Kearney had an excellent night vs the Mammoths. He's a legit 6'2 185 and plays that way. Four times opposing QBs threw to his side and all 4 were incomplete with 2 being nearly intercepted.  I like the way he found the ball, then attacked it at it's highest point.  He's another player that can play in any defense, but I do see him excelling as a press corner on a defense that plays a lot of Cover 1 or 3.
S – Jordan Dangerfield – 5'11 200 (Towson, Steelers)
Love the range that Dangerfield plays with. Here's a guy that can get from Point A to Point B in a flash.  Versus the run, Dangerfield is aggressive but under control; meaning he'll get to the spot in a hurry but isn't reckless and can make the open field tackle with perfect form.  His speed and acceleration also helps in the passing game as he's able to separate the receiver from the ball with perfect timing.  I think he has the ability to play a long time at the next level as a single-high safety or even as a slot player in a shell defense.
LB – Stephon Robertson – 5'11 227 (James Madison, Redskins)
In what was an impressive showing for the back 7 of the Bolts defense, Robertson had the best night for the LBs.  We knew about his speed to get from sideline-to-sideline and his ability to cover in the passing game.  What stood out the most in this game vs Omaha was his impact in the running game.  The 'in the box' running game is what I wanted to see Robertson excel at and he did just that by being very good at the P.O.A.  Some had questions about his ability to hold up in the middle because of his perceived lack of size, but all of those questions were answered against the Mammoths.
DL – Kiante Tripp – 6'6 276 (Georgia, Browns)
Tripp showed very good versatility up front for the Bolts and was disruptive all game long.  He has good anchoring ability vs the running game while flashing enough quickness and burst to be a disruptive penetrator against the pass.  I think he can play the 1T, and under tackle and even a 4i or 5T in a 3-4 defense. The Mammoths OL had problems blocking him up front and he actually helped a fellow teammate have an excellent night as well.
DL – Everette Thompson – 6'6 272 (Washington, Cardinals)
Thompson was the direct beneficiary of the solid play by his teammate Kiante Tripp. Seeing a lot of 1-on-1 opportunities, Thompson routinely beat his man showing an assortment of pass rushing moves, which led 2 sacks on the evening.  A 6'6 272, Thompson has the ability to play inside or out but he'll be your ideal pass rushing 5T in a 3-4 defense, with the ability to be a situation 4-3 DE. I came away very impressed with his quickness and hand usage.
_____________________________
Hunt's Scouting Notes: Brooklyn Bolts vs Boston Brawlers (10-15-14)
Brooklyn Bolts Prospect Notes
WR – Kevin Elliott – 6'3 205 (FAMU, Bills)
Elliott had a very good day catching the football, scoring a touchdown on a long reception.  What stood out to me was how well he was able to track the football, utilizing his frame to wall off the defender.  Considering the weather, Elliott was able to catch passes away from his body very often, which is what you want to see.
TE – A.C. Leonard – 6'2 250 (Tennessee St., Vikings)
In my opinion, Leonard was the best prospect on the field this game.  Although he's listed as a TE, he's really a WR in a TE's body.  His route running, hands and R.A.C. skills are where they need to be.  He's your ideal HB-type in an offense, ala Charles Clay (Dolphins).  Inline skills (blocking) definitely needs work. He doesn't have to become a devastating blocker, just needs to be able to arch & hook, seal and position block well.  As a receiver, you can line him up anywhere in the formation and he'll be able to operate very well.
TE – Ian Thompson – 6'3 248 (Louisiana, Bucs)
I came away impressed with how Thompson caught the football.  That was the one question I had about him coming out of college.  His blocking skills are definitely where they need to be and actually was an integral part to 2 big running plays. He able to drive block, scoop and position block exceptionally well.  He's more of your traditional TE type because of that element of his game and if he can consistently catch the football like he did verses Boston, he'll move up to an NFL or CFL team in no time.  As far as his routes are concerned, he's more of your turn, flat, in-route type of runner.
OL – Will Simmons – 6'5 343 (ECU, Steelers)
I scouted Simmons coming out of ECU's spread offense and was very impressed with his ability to pass protect, read & recog skills and his surprising ability to drive block.  This game the Bolts put him on the move a lot throughout the game and I was blown away at how well he moves for a lineman his size.  A lot of fold blocks, pulling left to right/right to left, leading into the hole, Simmons's athleticism and footwork was on full display.  That will definitely add to his value moving forward.
QB – Corey Robinson – 6'1 205 (Troy, Browns)
I liked Robinson coming out of college; I thought he threw the ball very well. At times at Troy he was a spot thrower, which got him in trouble a certain parts of the game.  This game, he showcased his throwing on the run capability. Robinson was accurate on the move and showed very good ball placement on Flag/Corner routes, routinely making "bucket throws" all night.  Considering it was a raining night in Brooklyn, I'd like to see more from him in better conditions.
Boston Brawlers Prospect Notes
QB – Tajh Boyd – 6'1 225 (Clemson, Jets)
Tajh Boyd is a streaky player.  Every series is something different. You want to see him bring that level of consistency to his game.  Early on he was seeing the field perfectly, timing was impeccable but the ball placement was hit or miss every other drive.  Granted the weather played a huge role in the productivity of the offenses on both sides, but you still want to see Boyd get better with his Red Zone efficiency.  He's an athlete and there shouldn't be a reason he willfully takes a sack.  Overall, when you look at Boyd's game, you DO see an NFL QB and that's why a league like the FXFL is beneficial because he's getting live game reps and I will say, he played better (from a pure QB perspective) this game as opposed to week one where he had better numbers.  Boyd is progressing in the right direction.
LB/DE – Greg Romeus – 6'5 267 (Pitt, Saints)
A healthy Romeus is a difference maker and that's has been his only knock since college.  In this game, you can see the tremendous athleticism & length he plays with; which allowed him to be a disruptive force throughout the game.  Romeus is able Push-Pull-Rip & Push-Swim with the best of them.  If he can string together consecutive games like this, he'll be on an NFL roster before year's end.
OL – David Mims – 6'8 335 (Virginia Union, Ravens)
Once Mims gets his hands on you, you're not going anywhere.  In the running game, Mims was able to keep his hands inside and move the defender off the spot with ease.  Where you want to see the improvement is in pass protection vs a counter move.  Mims tends to overset and extend, not giving himself leeway to reset & redirect vs a counter move.  That's something, in my opinion, that can be coached up. But you can definitely see why he was on an NFL roster coming out of a D2 program; his upside is there. This league is giving him the chance to realize it with consistent live reps.