The 2015 NFL Super Regional Combine & Veteran Combine was stockpiled with talent! Get the scoop with our highlights & takeaways from the workouts!
Wide Receivers and Tight Ends Group
Tight End Participants
1. Dallas Walker – Western Michigan
2. Matt Veldman – North Dakota State
3. Emmanuel Ogbuehi – Georgia State
4. Jamie Childers – Coastal Carolina
5. Ifeanyi Momah – Boston College
Wide Receiver Participants
1. Nathan Slaughter – West Texas A&M
2. Trent Steelman – Army
3. Joe Adams – Arkansas
4. Lestar Jean – Florida Atlantic
5. LaQUan Williams – Maryland
6. Carlton Mitchell – South Florida
7. Ben Gadsden – Miami
8. Thomas Mayo – California (PA)
9. Joe Anderson – Texas Southern
10. Darius Johnson – SMU
11. Takashi Kurihara – Hosei University (Japan)
Workout Notes:
Two guys immediately stood out with their route running and catching ability: Carlton Mitchell and Takashi Kurihara.  Both guys looked extremely fluid and comfortable performing in such a pressure situation.  I also like what I saw from two small college guys in Nathan Slaughter and Thomas Mayo. Both drew a lot of interest from scouts.  Joe Adams still has the explosiveness that made him a good prospect coming out of college. And for an option QB convert, Trent Steelman looked much more like a WR as opposed to when I got the chance to see him back in East West Shrine Game.  Emmanuel Ogbuehi and Jamie Childers stood out from the group of TEs.
Video Highlights from the Tight End/Wide Receiver workout: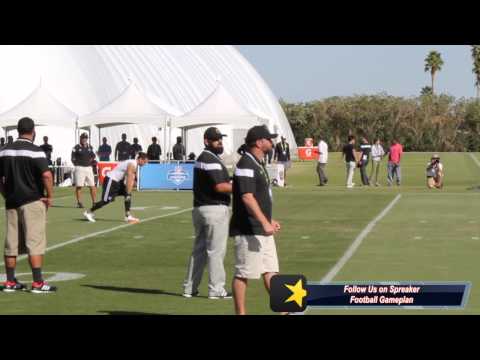 __________________
Running Back Group
Fullback Participants
1. Lonnie Pryor – Florida State
2. Dan Moore – Montana
3. Harvey Unga – BYU
Running Back Participants
1. Jewel Hampton – Southern Illinois
2. Cierre Wood – Notre Dame
3. Felix Jones – Arkansas
4. Mikel Leshoure – Illinois
5. Quentin Hines – Akron
6. Da'rel Scott – Maryland
7. Michael Bush – Louisville
Workout Notes:
Contrary to the unofficial 40 times, I thought the RB group ran very well.  Felix Jones and Da'Rel Scott just have another gear that instantly jumps out at you.  Michael Bush caught the football extremely well and looked good through agility drills.  Cierre Wood and Quentin Hines had good showings in the COD drills.  FB Dan Moore was the story of the day making 3 spectacular grabs deep down the field in pass catching drills.
Video highlights of the RB Workout: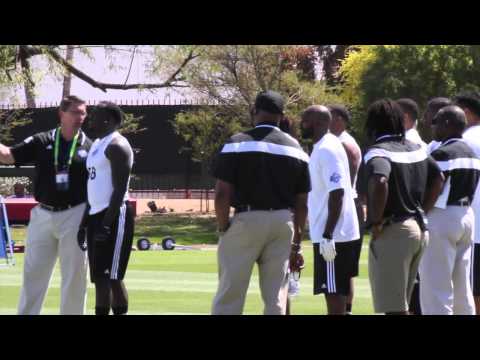 __________________
Quarterback Group
QB Participants
1. Michael Kafka – Northwestern
2. Zac Robinson – Oklahoma State
3. Darron Thomas – Oregon
4. Tyler Wilson – Arkansas
5. Keith Price – Washington
6. Brendon Kay – Cincinnati
7. Jerrod Johnson – Texas A&M
8. Brady Quinn – Notre Dame
Workout Notes:
Jerrod Johnson had the best day out of all of the participants.  Johnson threw the ball with velocity and accuracy at every level. He also showed good ability throwing on the move to both sides.  Both Tyler Wilson & Mike Kafka showed very good arm strength…the passes were 'whistling' as they whizzed by scouts.  Brady Quinn also threw well in the short to intermediate area, especially during the WR/TE drills.
Video Highlights from the QB Workout: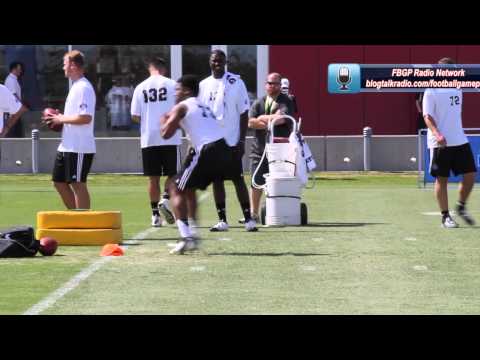 _____________________
Defensive Back Group
Cornerback Participants
1. Jordan Sullen – Tulane
2. Saeed Lee – Alabama State
3. Jordan Love – Towson
4. Julian Posey – Ohio
5. Deveron Carr – Arizona State
6. Brandon Burton  – Utah
7. Aaron Berry – Pitt
8. Kip Edwards – Missouri
9. Johnny Patrick – Louisville
10. Ryan White – Auburn
11. Greg Reid – Florida State
12. Keon Lyn – Syracuse
Safety Participants
1. Jawanza Starling – USC
2. Charles Mitchell – Mississippi State
3. Ahmad Black – Florida
4. Joe Lefeged-Young – Rutgers
5. Jerron Mcmillian – Maine
6. Keanemana Silva – Hawaii
7. Akwasi Owusu-Ansah – Indiana (PA)
8. Kyle Sebetic – Dayton
Workout Notes:
Julian Posey had a phenomenal day overall.  Very fluid and explosive in backpedal and in transition.  Didn't drop a pass on the deep ball and 90-degree breakout drills.  Deveron Carr also performed well at CB.  Two safeties had standout days, Akwasi Owusu-Ansah & Kyle Sebetic. Both guys didn't look awkward in COD drills.  Greg Reid was another player that displayed very good ball skills and quicks.
Video highlights from the Defensive Backs workout: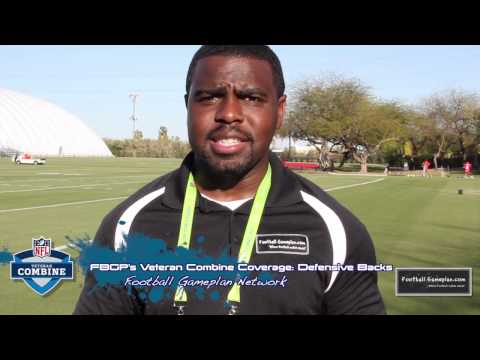 ___________________
Linebacker Group
Inside Linebacker Participants
1. Marcus Dowtin – North Alabama
2. Scott Lutrus – UConn
3. Jeremy Kimbrough – Appalachian State
4. Dan Fox – Notre Dame
5. Steele Divitto – Boston College
6. Darin Drakford – Maryland
7. Jacob Doughty – Utah State
8. Phillip Steward – Houston
Outside Linebacker Participants
1. Christopher Baker – East Carolina
2. Brian Rolle – Ohio State
3. Ka'Lial Glaud – Rutgers
4. Brandon Copeland – Penn
5. Thomas Keiser – Stanford
6. Vic So'olo – BYU
Workout Notes:
Speedy group of backers during this workout.  Brian Rolle moves like a Strong Safety showing very good acceleration and COD skills.  Three guys IMO had standout workouts: Jeremy Kimbrough, Scott Lutrus and Phillip Steward.  Both Kimbrough and Steward looked very good in the 5 bag agility drills and coverage drills.  Christopher Baker and Brandon Copeland looked impressive in pass rush drills, showing the ability to bend and accelerate.
Video Highlights from Linebackers workout: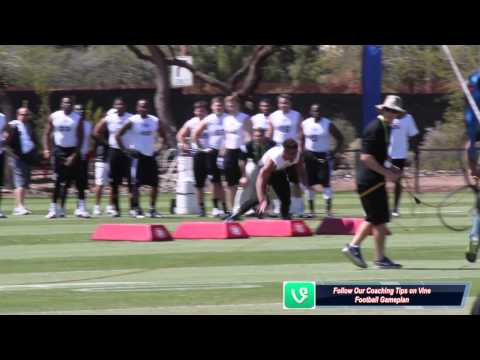 _____________________
Defensive Line Group
Defensive End Participants
1. Rakim Cox – Villanova
2. Craig Roh – Michigan
3. Sammy Brown – Houston
4. Michael Sam – Missouri
5. Tevin Mims – South Florida
6. Shahid Paulhill – Temple
7. Caesar Rayford – Washington
8. Jamal Anderson – Arkansas
9. Adam Carriker – Nebraska
Defensive Tackle Participants
1. Zach Minter – Montana State
2. Nate Collins – Virginia
3. Da'John Harris – USC
4. Everrette Thompson – Washington
5. Torell Troup – UCF
6. Byron Jerideau – South Carolina
7. Larry Black – Indiana
8. Marcus Forston – Miami
9. Jordan Miller – Southern U.
Workout Notes:
Rakim Cox looked to be in terrific shape and had a very good day overall.  There was a lot of 'youth' in his legs as he ran through drills.  The same can be said for Marcus Forston who was very explosive in bag agility drills.  Michael Sam, IMO, performed the same way he did at the Scouting Combine last year.  I'd even venture to say, despite the 40 time, he looked quicker.  Larry Black & Torell Troup also put together a pretty good day in drills.  Former 1st Round Pick Jamal Anderson bulked up a bit and had a very good sense of perspective during the post-workout interviews.
Video Highlights of DL Drills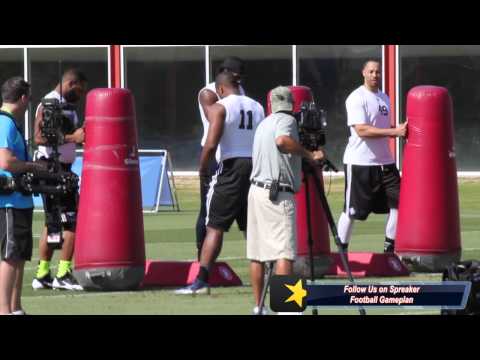 _____________________
Offensive Line Group
Center Participants
1. Ben Gottschalk –  SMU
2. Matt Armstrong – Grand Valley State
3. Mike Golic – Notre Dame
4. Jason Foster – Rhode Island
5. Deveric Gallington – Texas Tech
6. Greg Van Roten – Penn
7. Sherman Carter – Tennessee State
8. Graham Pocic – Illinois
Guard Participants
1. Michael Huey – Texas
2. Justin Wells – St. Augustine's
3. Stephen Goodin – Nebraska-Kearney
4. Ian White – Boston College
5. Ray Dominguez – Arkansas
6. Darius Morris – Temple
Tackle Participants
1. Joshua Aladenoye – Illinois State
2. Jack Breckner – Gustavus Adolphus
3. Nase Foketi – Kansas State
4. Randall Harris – Towson
________
Workout Notes:
Randall Harris and Justin Wells moved extremely well in drills. Wells looked more like a 'big TE' as opposed to an OL because of how well he moved.  Deveric Gallington & Michael Golic were also a couple of standouts in drills. Golic is coming off a very good season with the Brooklyn Bolts in the inaugural FXFL.  Jason Foster had the fastest unofficial 40 time at 4.95.  I also came away impressed with former GVSU Laker Matt Armstrong, another FXFL standout.
Video Highlights of the OL Drills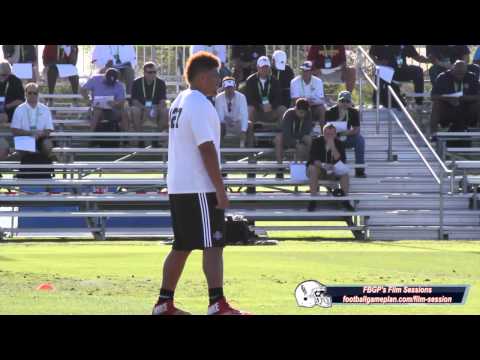 ______________________
Offensive Line Group
This was the 1st workout of the day and it got off to a great start. The scouts put the linemen through 6 drills: Wave Drill, Long Pull RT, Long Pull LT, Short Pull, Mirror Drill & Kick Slide.  The one player who definitely maximized his reps was C Jack Abercrombie of California (PA). Not only was he quick out of the blocks in his 40 yard dash, but his quickness translated to the on the field drills.  C Dillon Bonnet (Prairie View A&M) & OT Tovar Allen (Alabama St.) were two other players that showed tremendous athleticism in position drills.  Allen showcased very good technique and good overall movement skills.  Two Guards had great workouts as well: Alex Dole (Lindenwood) & Denzelle Good (Mars Hill).  I'm a big fan of the footwork of both guys.  You can also see why OT Danny Groulx (Laval) is thought of highly by CFL Scouts. He looked outstanding in kick slide drills.  Miami's OL Shane McDermott & Sukh Chungh (Calgary) showed good athleticism in the Wave & Long Pull drills.
"Get Me More Tape" – Offensive Lineman: Players I haven't scouted yet, but their workout has me wanting to take a longer look.
1. Jack Abercrombie, C – Cal (PA)
2. Dillon Bonnett, C – Prairie View
3. Michael Boyelio – C, Texas A&M Commerce
4. Tovar Allen – OT, Alabama State
5. Denzelle Good – OG, Mars Hill
____________
Defensive Line Group
Good workout from both the Defensive Ends & Defensive Tackles as they were put through  following drills: 5 Bag Drills, Body Control Drills, Wave Drill, Four Bag Agility, Punch & Rip and Punch & Swim.
DE Jamal Baker (Houston) was the most fluid defensive lineman in drills during this workout.  Two Small College guys in Everett Ellefsen (McNeese State) & Tyre Coleman (Hobart) were consistently among the top performers in drills as well.  Coleman is the teammate of OL Ali Marpet.  Ellefsen showed enough flexibility to show he has the ability to stand up as an EDGE guy.  Chucky Hunter (TCU) is one of those guys that you knew was  quick on film and he did nothing to disappoint during individual drills. Hunter performed well in the Wave & Body Control drills.  DT Lexington Smith (Northern Colorado) put together an impressive workout from the pass rushing perspective. Smith looked quick & confident in both the Punch/Swim & Punch/Rip drills
"Get Me More Tape" – Defensive Linemen:
1. Lexington Smith – DT, Northern Colorado
2. Everett Ellefson – DE, McNeese State
3. Jamal Baker – DE, Houston
4. Bryan Keys – Minnesota State
5. Darrius McMullin – Morningside
_________
Inside/Outside Linebacker Group
Scouts worked out the backers in 6 drills to test movement and athleticism: Bag Drills, 45 Drill, Wave Drill, 3 Bag Shiver, Play Action Sequence & Pass Rush (Rip & Swim)
The star of today was ILB Aaron Roane (Richmond).  The backers were put through 6 drills and Roane stood out in each one. Very fluid and explosive turning and running.
ILB Julian Howsare (Clarion) is a guy that can play both inside and outside…he was very impressive in the 45 drill, turning, running and closing downhill on the ball.  ILB Tyrell Adams (West Georgia) was fluid in read & reaction drills, displaying nice hands. The same can also be said about Jared Koster (NM Highlands). A few scouts from different teams requested his time after drills were complete.  Another star from this group was OLB Shaun Ward (Florida A&M).  Ward has very fluid hips, natural hands and very good acceleration & ankle flexion.
"Get Me More Tape" – Inside/Outside Linebackers:
1. Shaun Ward – OLB, Florida A&M
2. Aaron Roane – ILB, Richmond
3. Tyrell Adams – ILB, West Georgia
4. Jared Koster – ILB, New Mexico Highlands
5. Michael Reynolds – OLB, Kansas
________
Running Back Group
With the running group, there were a couple of standouts from the various drills coaches put them through: Bags & React, Pitch, Catch & Redirect, Swing, Angle & Wheel Routes.
Rob Holloman (Central Connecticut St.), Jawon Chisholm (Akron) and Kirk Wilson (Shorter) were the most explosive of the group.  All three guys showed a different gear in terms of going from 0-60. Very impressive burst.  Bronson Hill (Eastern Michigan) looked very natural catching the ball over his shoulder. Another player that definitely helped himself was Brandon Hayes (Memphis).  Hayes' footwork was very impressive in the bag drills and didn't look stiff or robotic in COD drills.
"Get Me More Tape" – Running Backs
1. Jawon Chisholm – RB, Akron
2. Bronson Hill – RB, Eastern Michigan
3. Spencer Davis – RB, Southeast Missouri
4. Luke Lundy – RB, Ottawa University
_______
Quarterback Group
The quarterbacks had their individual drills before throwing to the TEs & WRs.  The drills the scouts put them through were: 3-step/5-step/PA Footwork Drills, Bootleg, Escape and Reaction drills.
From a pure arm strength standpoint, J.P. Douglas (Davidson), Keahn Wallace (Johnson C. Smith) and Cole Jaeschke (Upper Iowa) had some smoke coming from their passes.  Great velocity shown by all 3 QBs.  Sean McCartney (West Chester) also displayed above-average arm, making very good throws 15+ yards downfield.
I came away very impressed with Austin Dodge (Southern Oregon) ability in both the Escape drill and reaction drills.  The ball came out quick, accurate and with some velocity.  The biggest question he had coming in was about the strength of his arm and I'll say that it wasn't an issue at all.  I think in the reaction drill he impressed a lot of scouts because of how the drill was administered. Scouts shouted out math equations based on the receiver's jersey number and the QB had to pick the 'best possible' if not correct answer.  Dodge excelled here, consistently hitting the 'right' guy.
Other QB that had a great showing in the reaction drill were Tyler Murphy (Boston College) & JP Douglas (Davidson), making the 'correct' read & throw every time. Both definitely got the most out of each rep.
"Get Me More Tape" – Quarterbacks
1. J.P. Douglas – QB, Davidson
2. Cole Jaeschke – QB, Upper Iowa
3. Keahn Wallace – QB, Johnson C. Smith
_______
Tight Ends Group
We got to see the TEs go through Drive/Block Drills, Gauntlet, Sideline and Deep Ball Drills.  The standout in all drills was Matt Lengel (Eastern Kentucky).  Lengel has tremendous size at 6'7 265 and looked fluid in his route running and catching the football.  He and Earnest Pettway (Villanova) both excelled in the drive blocking drills.  Great technique and footwork in both.  Pettway has really good hands but you can tell he'd be a very good #3 option/blocking TE as a pro.
I would have to say that the best all-around athletic performance was from Brock DeCicco of Indiana (PA).  DeCicco was the best route runner, looked like a natural getting in-and-out of his breaks, and catching the ball extremely well over his shoulder.  DeCicco was one who definitely caught the attention of more than a handful of scouts in attendance.
Scouts also worked the TEs through Choice/Stick Routes, Drive Concept pattern, and Wheel routes.  In these three, you got to see an excellent workout from both Brian Parker (Albany) and Christopher Malott (SE Louisiana).  Both guys' route running was almost perfect.  Definitely stood out as potential Flex guys.  No surprised that a couple of NFC teams that are 2 TE/H-Back heavy offenses looked to speak with them after the workout. All in all, it was a great day for the TEs.
"Get Me More Tape" – Tight Ends
1. Matt Lengel – TE, Eastern Kentucky
2. Brock DeCicco – TE, Indiana (PA)
3. Earnest Pettway – TE, Villanova
4. Brian Parker – TE, Albany
5. Christopher Malot – TE, SE Louisiana
_________
Wide Receiver Group
The wideout group had a similar drills workout as the TEs, with a few additions.  We saw Curl, Speed Out, Slant, Dig and Post Corner routes being utilized with this group.  WR Joe Craig Jr. (Memphis) was the leadoff player and performed like one.  He had an excellent workout, caught every pass and looked explosive both in-and-out of his breaks. Both Reginald Bell (San Diego) and Paul Browning (CSU-Pueblo) showed very good hands…eyes staying focused on the ball, catching and not stopping the ball.  Very natural hands catchers.  Donteea Dye (Heidelberg) brought a lot of energy to the workout.  You can tell he loves the game and looked very good running the Dig and Post Corner routes.  Jaret Smith (McMurry) also had a good day on the aforementioned routes.
"Get Me More Tape" – Wide Receivers
1. Joe Craig Jr. – WR, Memphis
2. Donteea Dye – WR, Heidelberg
3. Reginald Bell – WR, San Diego
_______
Defensive Back Group
The final group of the day was the most spirited. Scouts worked the Safeties and Cornerbacks through backpedal drills, "W" drill, Weave, Turn and Run Drills.  Two Safeties had the best workouts IMO, Dontae McCoy (Illinois State) and Tray Walker (Texas Southern).  McCoy was the vocal leader and showed pretty good ball skills and ball tracking skills for a Strong Safety.  Walker, who also played some CB at TSU, was very fluid in his backpedal, turning and running, and catching the ball with ease.  I also came away impressed with the fluidity of Justin Currie (Western Michigan). Very good hips and turn and run skills. As a deep safety, I think he has a future.
Cornerbacks Willie Creear (Eastern Michigan) and Stoney Burns (Bethel, TN) had the best workouts for the CBs.  Creear plays at a different speed. In the "W" drill, you saw his ability to plant & accelerate with ease.  He also looked comfortable catching the ball.  Burns had his moments tracking the ball and in the 90-degree break drill.  He has some 'springs' in his legs and I think could also function as a returner.
"Get Me More Tape" – Defensive Backs
1. Willie Creear – CB, Eastern Michigan
2. Stoney Burns – CB, Bethel (TN)
3. Justin Currie – S, Western Michigan
______
Footage from the NFL Super Regional Combine